Mother's Day is almost here, so we decided to shed some light on how moms use their mobile devices for child development, entertainment, and family management tasks. We profiled six apps popular with moms – The Children's Place (Retailer), PBS Kids Video, Kinedu (Child Development), Baby Pics, Cozi (Family Organizer), and Verizon Smart Family (Family Locator) – to see what our TrueData analysis could tell us about these diverse audiences.
What we found might be a bit obvious: working and stay-at-home moms do a lot. But read on to learn how our TrueData analysis provides some quantifiable evidence to support this conclusion.

All six apps have a majority female user base. This is unsurprising as the most recent

time use survey from the Bureau of Labor Statistics

(BLS) found that moms spend almost 80% more time per week on childcare and household management than dads.

What's notable is that while shopping and child development apps had female usage of at least 84%, female users for PBS Kids and Verizon Smart Family averaged 64%. This suggests that with family management and entertainment, it's helpful to mom when everyone in the family installs the app on their devices.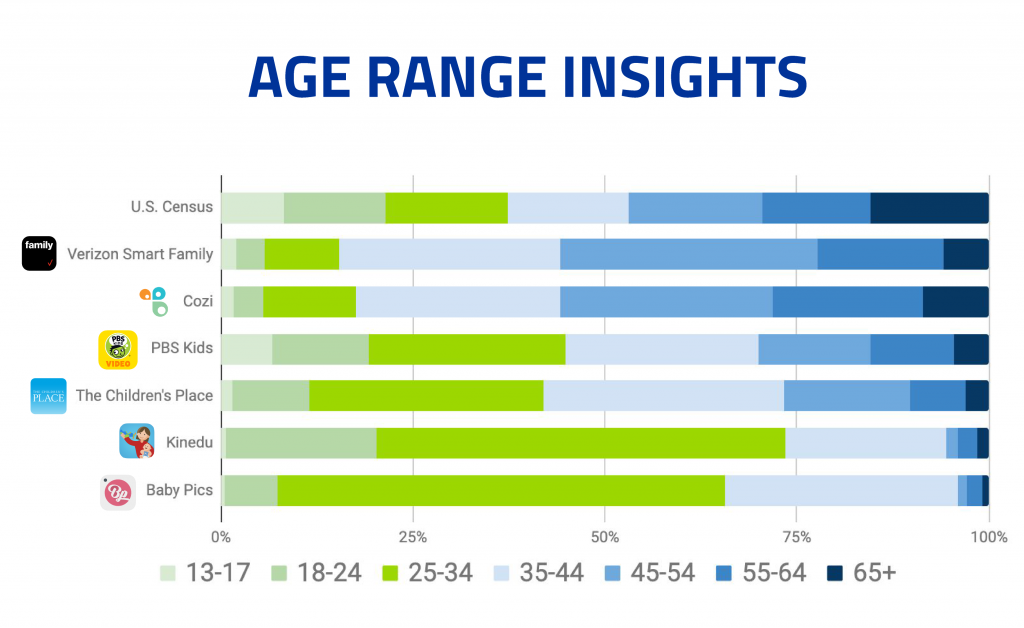 Kinedu and Baby Pics have a predominantly Millennial user base; more than half of users of both apps are under the age of 34. This makes sense since these apps lean toward the needs of younger kids, which Millennial moms are more likely to have. Use of image editing apps (like Baby Pics) tend to also skew toward Millennial moms.

On the other hand, over half of Verizon Smart Family and Cozi users are over the age of 45. These are tracking and family management apps, which solve needs more related to managing kids who have moved past the toddler phase – older kids typically means older moms.

With the exception of The Children's Place and PBS Kids, all of our mom-related apps under indexed for Spanish speakers.

PBS Kids has the highest percentage of Spanish-speaking users (18%). This is likely due to PBS Kids' bilingual content and its use as a resource for English language learners (as a publicly funded organization, PBS may be obliged to cover the needs of all citizens regardless of their language preferences).

The Children's Place also over-indexes for Spanish speakers. The company's website has a robust Spanish version and it has several brick-and-mortar stores in Puerto Rico.
We found some really interesting insights when we indexed these six apps against apps that weren't necessarily parenting or specifically mom-related. Here are some takeaways:
Moms are CEOs of the family:

Cozi, as a family planning tool, indexes for financial apps and discount apps like EveryDollar (@ 54x), suggesting that these users are trying to stretch their money.

Moms are family managers:

They heavily index for planning apps.

They don't just want to track family location (Verizon Smart Family) and the location of others beyond their family (Glympse @77x), they also want to track their kids' school day (Seesaw @103x), their flights (FlightAware @ 72x), their family heritage (FamilySearch Tree @143x) and get organized around tasks like shopping (Shopping List @134x).

Moms balance work and family:

Verizon Smart Family Users are almost 37x and 33x more likely to have either WebEx Meetings or Zoom, respectively, on their devices.

Moms are media lovers:

Users that have the PBS Kids app over index for other kid entertainment apps like Disney Junior, at over 63x.

Moms are entrepreneurs:

Verizon, PBS, Cozi, and Children's Place users are anywhere from 21x to 83x more likely to have the Etsy Seller app on their device. In addition, Verizon Smart Family users are also 93x more likely to have the Amazon Seller app.

Moms are in charge of home buying and renovation:

All six apps we profiled over indexed for Realtor.com and Houzz apps. Kinedu users, for example, are focused on their homes and making room for their new families; they are 21x more likely to have Realtor.com and almost 30x more likely to have Houzz.
We know that moms have a lot going on, and these quality insights are just a sampling of the kind of rich analytics a TrueData Mobile Intelligence Report can deliver. With a customized Mobile Intelligence Report, you can target coveted audiences, conquest competitors, and retain high-value customers, all while boosting ROAS and ARPU. Mom would be proud.
Leverage TrueData Mobile Intelligence To Accurately Reach Your Best Customers