In the spirit of Spring, we thought we'd shed some light on how mobile customers engaged with some of the most iconic springtime activities: home improvement, DIY projects, decorating, and gardening. So we profiled four top apps that center around these activities – Home Depot, Michaels, Groupon and Houzz – to see what our TrueData analysis could reveal about these similarly industrious audiences.

As expected, Michaels has a predominantly aging craft-focused user base.

Houzz and Home Depot, which primarily cater to homeowners, look very similar in terms of user age breakdown, skewing far older than the average American. We dug deeper on

census data related to age and home ownership

, and found that rates of home ownership increase with age, in line with the demographic profiles of these apps.

Even though Houzz has a curated, editorial vibe, which you might assume attracts a younger age demographic, it looks nearly identical to Home Depot in its age break down.

Michaels, as expected, has the largest female user base of all apps profiled, at almost 84%.

The one major place that Houzz and Home Depot differ on demographic data is gender. Houzz skews heavily female while Home Depot skews heavily male.

Houzz and Groupon, on the other hand, don't differ on gender at all; both are at 63% female.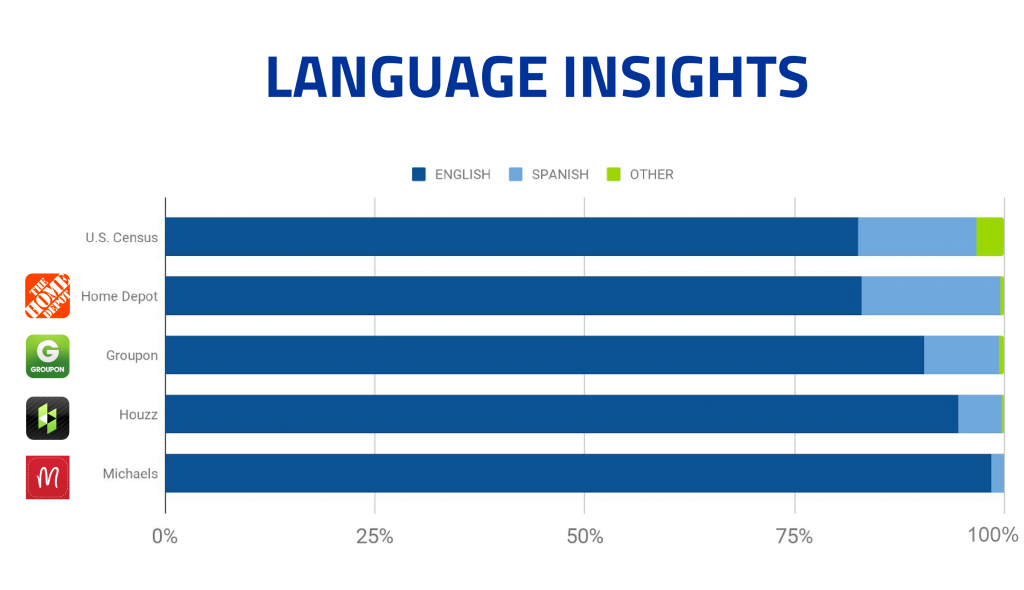 All four apps under index for Spanish speakers, except for Home Depot, which heavily over indexes for Spanish speakers versus the U.S. population.

According to the U.S. Bureau of Labor Statistics (BLS)

, 31% of construction workers are Hispanic, so this Home Depot language breakdown supports BLS statistics.

Michaels has the least diverse user base when it comes to a user's primary language.

We see really strong cross indexing for nearly all the app combinations we selected for the home improvement category.

Houzz users are slightly more likely to have the Home Depot app than are users of Home Depot to have the Houzz app. Houzz customers may be supplementing pragmatic home improvement tools with needed creative ideas and inspiration.
Want your upcoming campaigns to really spring into action? Add a custom Mobile Intelligence Report from TrueData and get a comprehensive look into your users to accurately reach your most coveted audiences and convert them into high-value, lifetime customers.
Make TrueData Mobile Intelligence Part of Your Spring Marketing Strategy For Better ROAS and ARPU