On July 21st, The Series assembled the brightest minds in marketing to discuss the tectonic shifts in the addressability landscape over the past year, illustrate what they have learned, and highlight what is to come in the next year. Panelists were asked thought provoking questions related to privacy, regulation, and big tech dominance. Catch up on the fireside chat, three panels, and a great industry survey. Here are the main takeaways from the event.
CEO Introduction: Big Trends Brands, Publishers and AdTech Must Solve for New Challenges
Three themes emerged from the industry research and conversations we had with these executives:
The whole ecosystem is impacted by changes in the addressability landscape. Marketers and publishers recognize that addressability is a problem that must be solved.
Panelists agreed that the future of the industry included more data collection transparency and regulation.
Several panelists mentioned the importance of the value exchange between the consumer and publisher. Data collection is acceptable if the consumer understands what and how their data is being used.
Fireside Chat: The Future of Data Collection in an Uncertain World
The event kicked off with a fireside chat with Joy Brown, who is the Chief Data Officer for Verizon Media and is focused on transformational digital disruption, leveraging data, and redesigning the intersection of operations and internal/external facing technologies.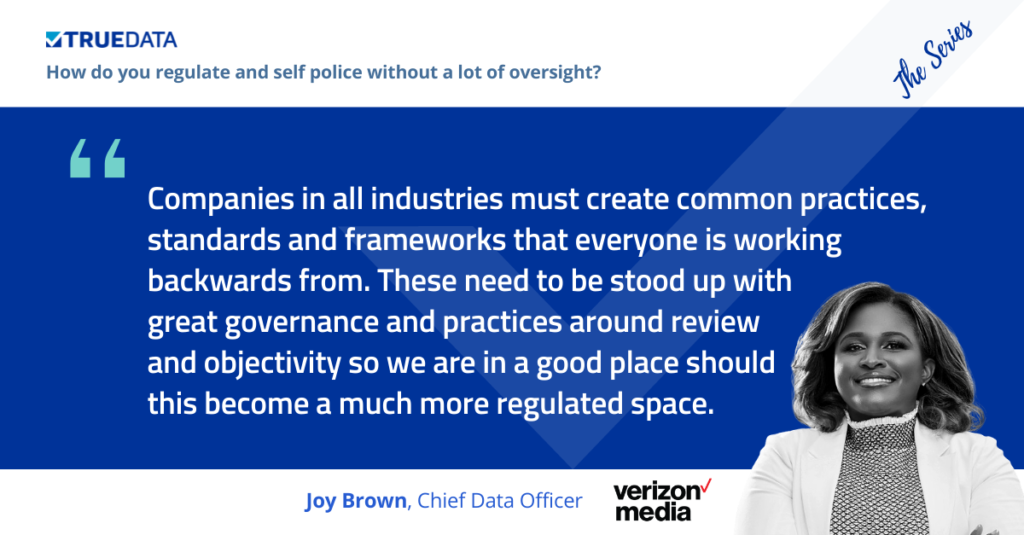 Publisher Panel Takeaway: The Best Time to Prepare for a Cookieless Future is Yesterday
The reality of a cookieless future was apparent throughout the event with many panelists sharing how important it is to start planning today. Apps and Publishers face unique challenges and must navigate the possibility of all primary identifiers going away.  In the "Solving Publishers Addressability Challenges" panel, executives delved deeper into the challenges and opportunities for innovation to consider when preparing for the cookieless future. 

Innovation Panel Takeaway: All Players Have a Shared Responsibility to Re-Architect the Industry
As the identity landscape continues to evolve, there is an opportunity and responsibility across all players to collaboratively change the narrative of the conversation. Much of this is driven by continued focus on consumer privacy and major tech changes from Apple, and Google. The panel of executives from NAI, Equifax, InfoSum, Tru Optik (A Transunion Company), and LiveRamp explored topics across data privacy, regulation, and product innovation. 

Brand Panel Takeaway: Some of the Biggest Challenges Marketers Face Today Surround Long-Term Data Strategy
For brands, agencies, and AdTech Companies, the main priority when considering privacy changes is being prepared to tactfully adjust their budget, targeting, and attribution strategies.  The brand panel of executives from McKinsey & Company, Spark Foundry, REI, MediaMath, and IPG/Acxiom/Kinesso outlined their best practices regarding first party data collection, understanding independent unique first party data solutions, and maintaining client trust and success. 
Big tech's cookie deprecation delays result in a dynamic situation for a period with some certainty in the future. This delay gives agencies an opportunity to test different options for clients.

Every client and brand has unique use cases and it is important to understand when and where first party data is needed.

"Our guidance to our clients is that now is not the time to take your foot off the gas. Google's delay is a sigh of relief in that it gives us more time to develop a good first party data strategy and a platform strategy to support it -This is something a lot of clients don't have right now," Said

Emily Blair, VP, Data Architecture, Spark Foundry.

 

Watch the full recording to explore more details.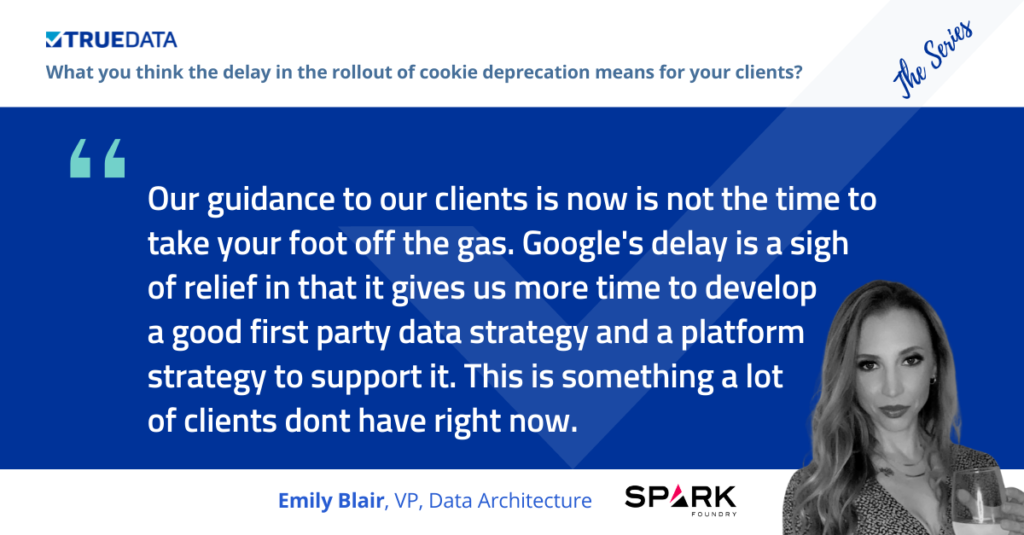 Interested in learning more? TrueData is here to help. Watch the full event recording here or schedule a meeting to talk to our team.