To see just how powerful the combination of demographic, app ownership, and location data can be, we profiled the app owners of online pet supply retailer Chewy against store visitors of its parent company, Petsmart, and competitor, Petco to see what we could uncover about the shopping behavior of mobile consumers versus in-store customers. Here's what we found:
Age Insights:
Although all three brands skew older, Chewy has more customers over the age of 55, which may be based on the convenience older shoppers find when ordering heavier pet supplies online versus physically going to a store.

Gender Insights:
Females tend to be the purchase decision-makers, and when it comes to mobile and in-store purchase behavior, the data shows that there isn't much of a variance across all three retailers.

Language Insights:
While the language setting of choice across the three retailers is overwhelmingly English, Chewy has more Spanish speaking app owners compared to Petco and Petsmart in-store shoppers (30% and 40% more, respectively).

This demonstrates another instance where Chewy's convenience factor may come into play: for Hispanic populations that tend to live in rural areas, which are less likely to have a Petsmart or Petco store nearby, purchasing via the Chewy app presents an accessible option.
App Ownership Insights:
Predictably, Chewy users over index for delivery apps, indicating that its app users rely on other mobile services to make life more convenient.

Also as expected, in-store shoppers of both Petsmart and Petco over index for

other

brick-and-mortar brand apps on their devices. This aligns with the overall shopping behavior of customers who tend to visit malls and naturally frequent other stores. For example, Petsmart retail shoppers are 30x more likely than the average person to also shop at Bed Bath & Beyond.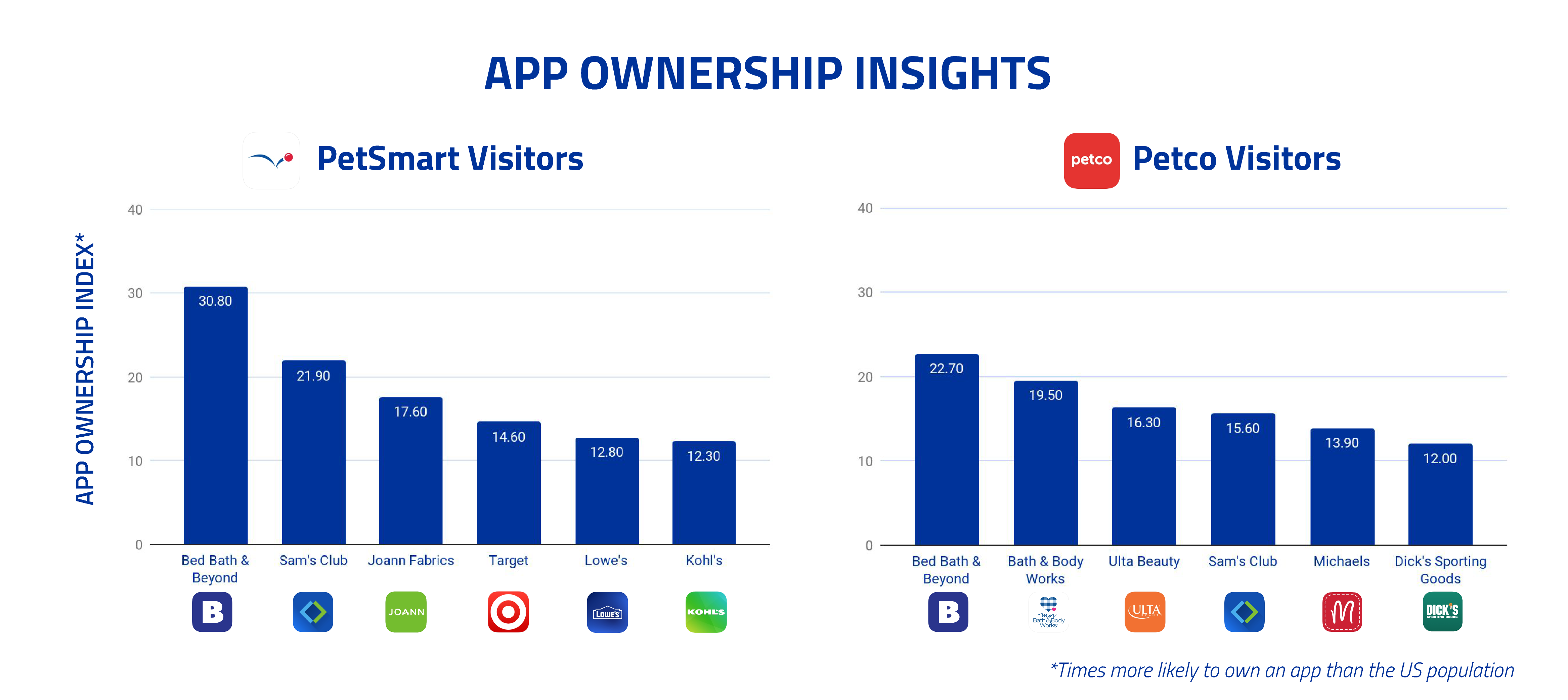 Additionally, and not surprisingly, Petsmart store shoppers over index for the Petsmart app. What might be more surprising is that

Petco

shoppers also over index for the Petsmart app; they are 43.6x more likely to have it on their devices, but they do not over index for the Petco app. This may demonstrate that Petsmart has cultivated a stronger brand loyalty than Petco, and/or Petco has failed to penetrate the app channel with its customers. According to the

Google Play store

, it looks like Petsmart has gotten 5x+ more app downloads than Petco, another sign that Petsmart is effectively expanding its mobile market share.

Customers of all three brands like to hunt and fish; Petsmart and Petco store shoppers are 12-14x more likely to have apps in these categories on their devices, and it's significantly higher for Chewy (users are 50x more likely to have hunting apps and 30x more likely to have fishing apps).

Alexa app ownership is common across the retailers, which signals an emphasis on home connectivity, convenience, and entertainment.

Even though Chewy skews older, 16.1%* of the total apps Petco visitors had on their devices were gaming apps compared to 13.8%* for Chewy users. 

Further, while Chewy users over index for delivery apps in general, only 2.5%* of their total apps are in the Food & Drink category.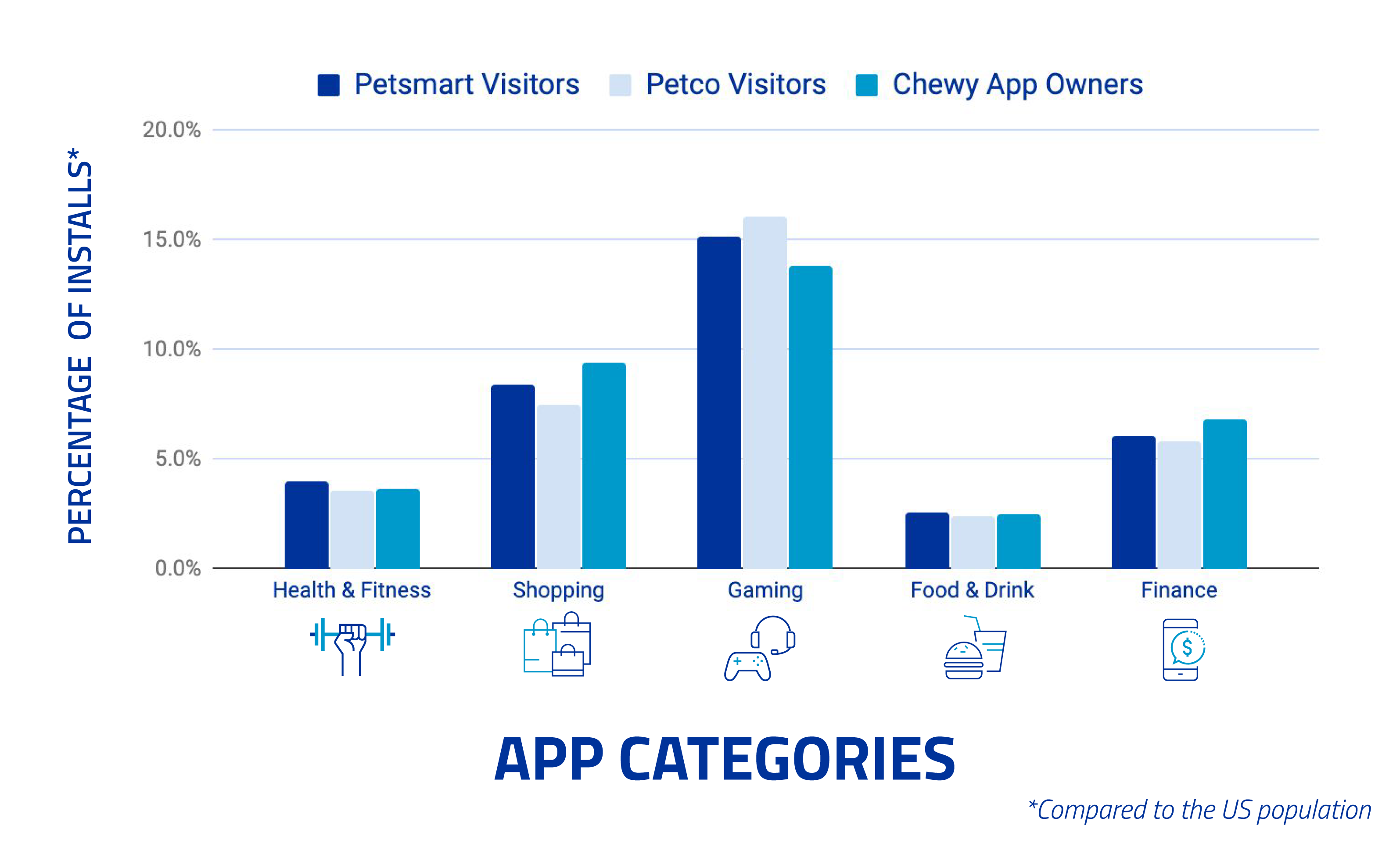 Key Takeaways:
Chewy app owners are mobile-focused, older, and slightly more male, compared to Petsmart and Petco visitors

All three brands over index for retail apps, with retail app owners generally skewing female, and retail shoppers in general tending to visit brick-and-mortar locations

Older Petsmart and Petco store visitors are engaging with mobile for games and overall convenience

By acquiring Chewy, Petsmart could expand its market share by reaching tech-savvy, older male pet owners
Our Platform uniquely combines location data captured from 3BN events a day with demographic and app ownership – plus a variety of other attributes like language, device characteristics, carrier, and bluetooth – across 345MM+ active devices to deliver powerful customer and competitor intelligence that can't be found elsewhere.
Find Out How the TrueData Platform Can Bridge Your Customer Understanding Gap