Football fans are turning to mobile to engage with their favorite teams, and are using a diverse set of apps for varied experiences. We profiled five of the top sports apps and found that fans are using them to engage with the game in very different ways:
To Watch –> NFL Sunday Ticket
To Listen –> TuneIn
To Attend –> SeatGeek
To Read –> ESPN
To Compete –> Yahoo Fantasy
Demographic analysis reveals a pretty specific age and gender skew.
When we took a close look at the demographic makeup of these apps, we found that – not surprisingly – all five over index among both 25-54 yr olds and males.
However, the female audience is substantial and not to be overlooked.
Three of the five apps have approximately a 16% higher female user base than the bottom two. Roughly 20% of Yahoo Fantasy, NFL Sunday Ticket, and ESPN users are female.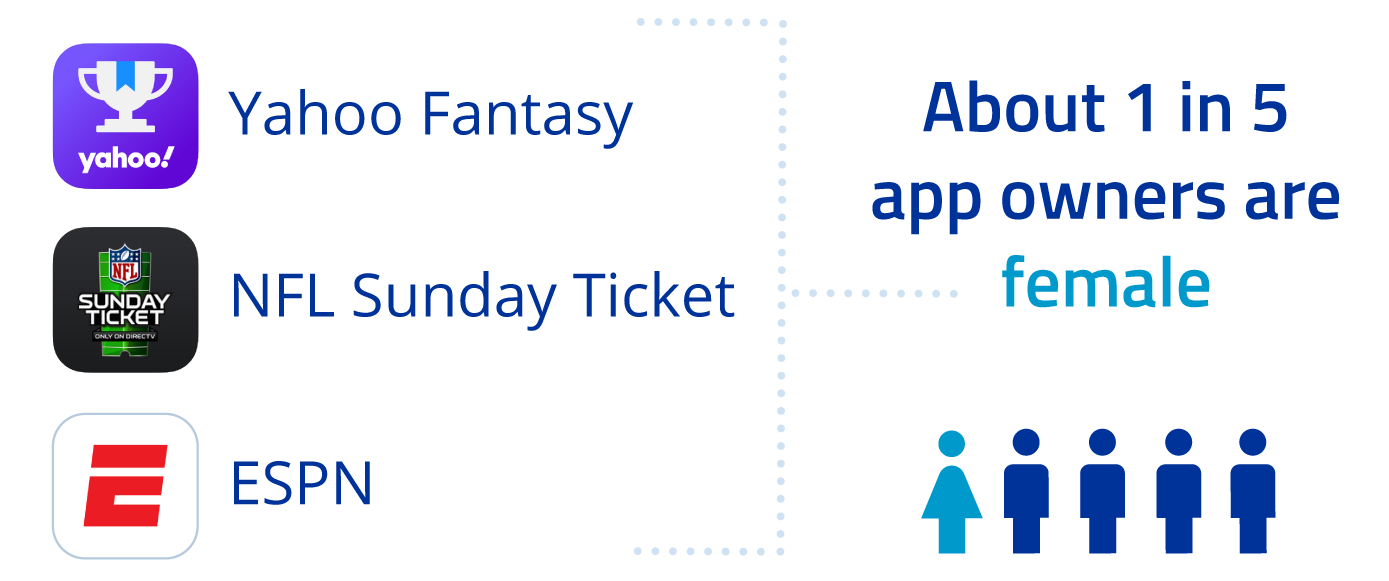 Certain apps are penetrating age-specific markets.
SeatGeek app offers inexpensive, last-minute ticket purchases, which may appeal to younger customers. And TuneIn is attracting users over 55 most likely because radio, as a medium, in general skews older.

Fantasy sports players are most likely to be engaging with sports by watching on mobile, over attending a game, listening to the radio, or checking the score.
Yahoo Fantasy app owners over index for the football apps, but are the most likely to own NFL Sunday Ticket, as compared to the US population: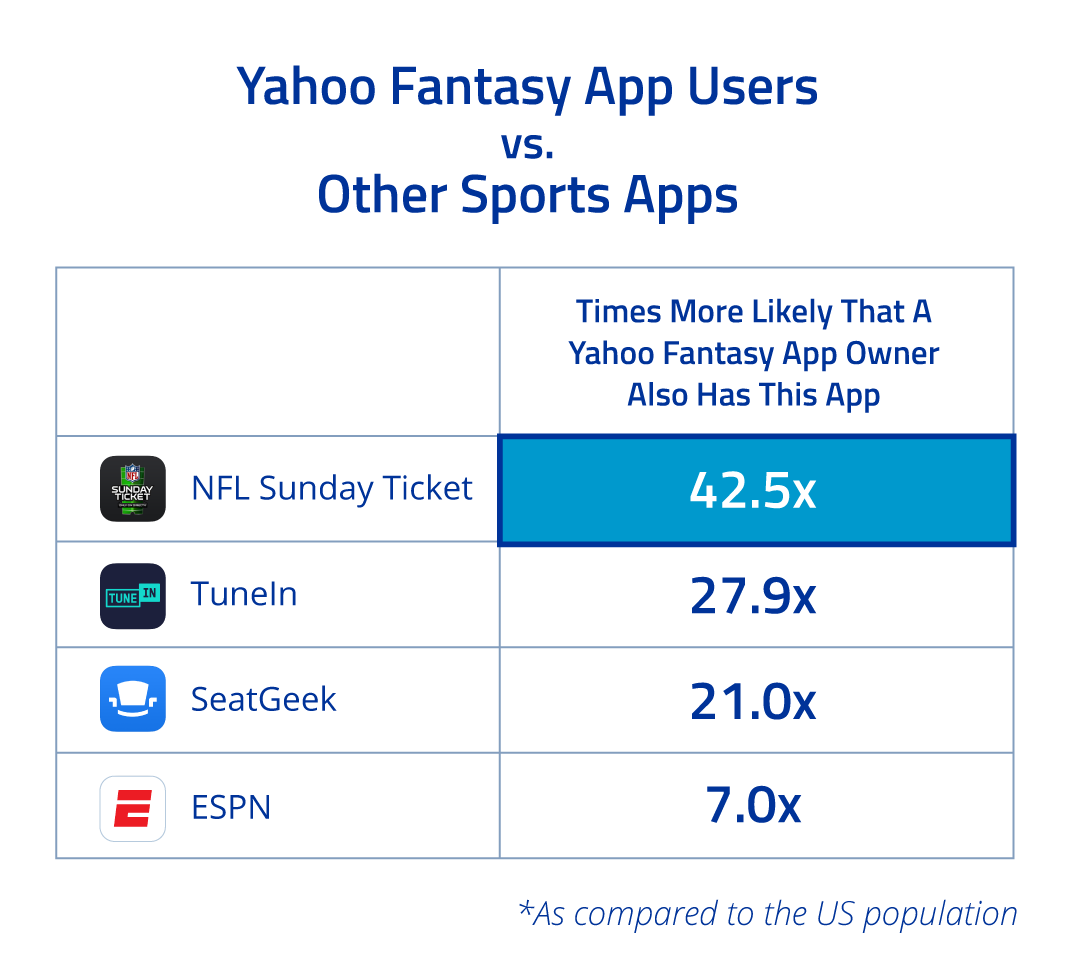 Fantasy sports players aren't loyal to one app; they play the field.
We discovered that Yahoo Fantasy Sports app owners demonstrate a significant ownership overlap with five other top fantasy sports apps – meaning fantasy players often own two or more fantasy apps: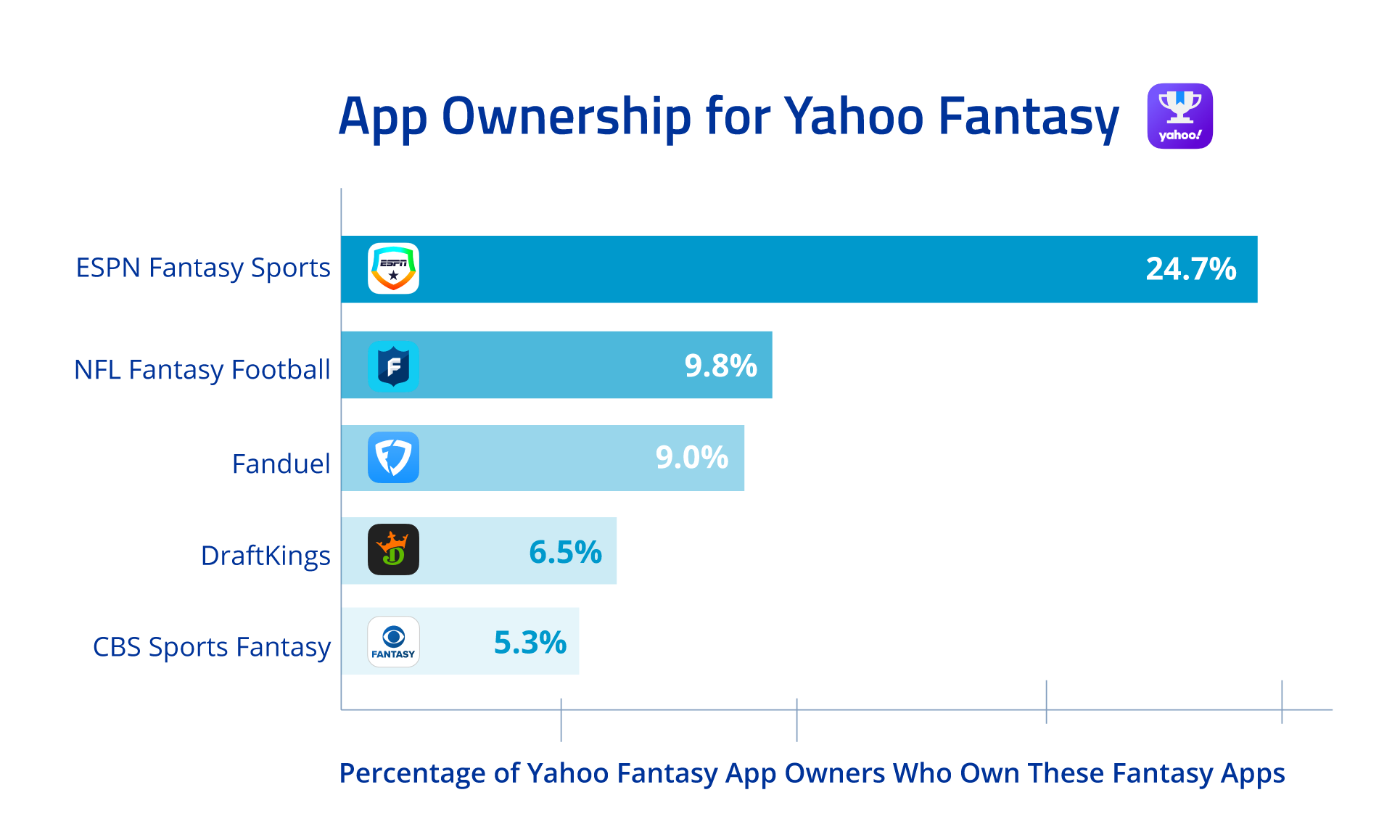 Wings and sneaks are staples when it comes to sports enthusiasts.
TrueData found that Wingstop chicken wings and Nike sneakers were incredibly popular products with SeatGeek users. Other brands that over-indexed for wings and sneakers include NFL Sunday Ticket and ESPN.

The Raiders are the most popular NFL team for NFL Sunday Ticket app users.
Sports fans who own the NFL Sunday Ticket app are almost 50x more likely to also have the Oakland Raiders app:

Football may be the #1 sport in America, but…
We found these sports app users are more likely to be NHL league app enthusiasts than NFL league app enthusiasts. This may be due to the fact that the NHL has fewer individual team apps than the other two leagues: 

So what can insights like these tell us about how sports fans are engaging with the game? Namely that they spend time in multiple apps to get a fully immersed sports experience, and do business with brands that may or may not be expected. Deep profiles like these can uncover gaps in customer understanding or targeting opportunities.
Connect with TrueData to schedule a brief demo of the TrueData Platform and see first-hand how mobile data can help grow your brand.
Mobile Intelligence That Really Works – Request a Demo