Learn About Customers And Competitors
How much do you truly know about your customers? How close are they to your competitors? Many brands and mobile apps can't answer these questions with any degree of confidence—because the data just isn't there. Many think that they have a good idea, but their data is based on low-fidelity offline data, surveys, or modeled data. TrueData fills in these critical knowledge gaps, providing fully-verified, deterministic customer and marketing data to deepen understanding, identify growth opportunities, and strengthen loyalty while respecting privacy.
Do You Have a Mobile Lens to Understand Your Customers?
The TrueData Platform generates intelligence reports that are mobile-first and produce actionable insights most brands never imagined possible. Our data describes an anonymized yet comprehensive set of vetted, verified actions and information about real mobile users. Our rich data can tell you more about your customers.
Users's Apps & Brand Loyalties
Mobile users' apps can reveal their hobbies, interests, favorite brands, and loyalty programs.
Commercial Points of Interest
TrueData tracks 5 million commercial points of interest, enabling you to better understand how users spend their days.
You can spot opportunities among audience segments and target accordingly.
You can decode owners of particular phone models or customers of a particular carrier.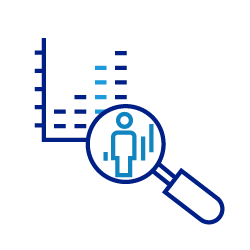 What Do You Know About Your Competition?
Good competitive intelligence is golden. With TrueData's Mobile Intelligence you can find out what's really going on in your industry sector. Even better, you can profile customers of competitive apps and retail locations to find out how they differ from your customer. Make this data actionable by conquest your competitors' customers, or winning a greater share-of-wallet from current customers.
Request a Free Competitive Profile
What Can You Actually Do With Intelligence?
The problem with a lot of intelligence reports is that they don't help you figure out what you should do next.  But with TrueData's Mobile Intelligence you can seamlessly build and activate a plan to target users in ways that you have never before. Our insights drive better targeting decisions, and that leads to better ROI on your marketing spend.
Engineer Growth With TrueData
Mobile Intelligence In Three Steps
With TrueData, compiling and using mobile intelligence is remarkably easy. With access to the TrueData Platform, you can immediately begin developing and profiling audiences.
Audience Definition

Tell us what audience segment you'd like to explore, or send us a file of your own users to compare against (we'll never use it for anything but what you authorize).

Audience TrueData Matching

The TrueData platform quickly and accurately matches each audience you define to people and devices in our big data dataset.

Audience Intelligence Execution

Analyze and explore each audience using TrueData's anonymous, rich data.
The Best Brands In The World Trust The trueData platform
250+ household name brands have chosen TrueData for their audience marketing needs. They span major verticals, from retail to quick-serve restaurants, and digital goods to financial services.  Join them in seeing how TrueData can transform your business.
See How TrueData Can Help Your Business
TrueData: Designed For Privacy
Privacy has been at the core of our business since we opened our doors. Every publisher we onboard goes through a strict privacy audit to ensure that they adhere to best practices and consistently protect users' data privacy rights. This assures you that all data in the TrueData platform has been scrupulously vetted with a keen eye for privacy. You can feel confident we've taken all necessary steps to protect users—and you.
Read our statement on privacy here
.